Face Paste
Here's a thing.
Lately I've been scouring the recesses of my hard-drive for pictures I might use on tinkerpix.com, my photo retouching service , for promotional purposes…because it's failing.
Below you'll find a before-and-after of one such picture, complete with a fancy little slider bar enabling you to see every change and tweak I made with such revealing clarity it's practically embarrassing.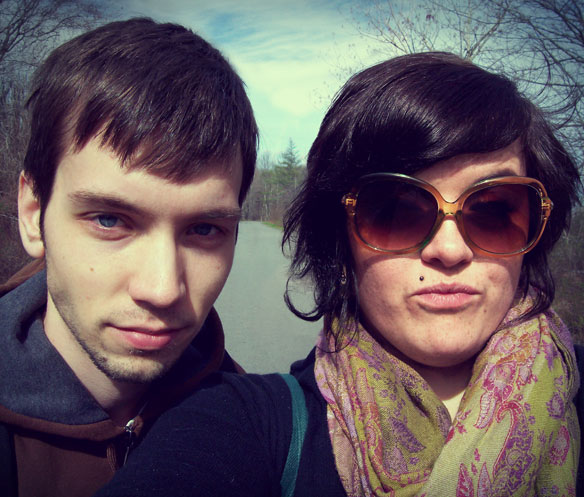 As you can see, the before picture cuts off the top of my head. It also has a shot of my good friend Ashley that she would never approve of, so I teased off her head and slapped on a new, poutier one. Then I wrapped the whole package in a genteel haze to forget the whole macabre affair.
Here, I'll illustrate the process:
Photo 1.)
In this picture I'm striking a serious pose and Ashley is making a silly face.
+
Photo 2.)
In this picture Ashley is striking a serious pose while I'm making a silly face.
=
Photo 3.)
Now the previous two photos are composited, restoring the top of my head and making both faces serious.
+
toy-camera type effect
=
Photo 4.)
This photo adds a simulation of the filter that was popularized by the iphone, and by association should apply a modicum of trendiness to the persons pictured.


Anyway, this isn't so much the flashy, saleable image I was searching for as it is a result of boredom at said searching being prolonged and fruitless…
But there's a moral, and here it is: There's no need to discard partially-good pictures if you have another picture that can fill in the bad parts! Think about all the slightly imperfect family portraits, college frat party pics and pouty group poses that would be perfectly postable if they weren't wantonly ignored as a result of the oops-now-you-look-ugly wack-a-mole nature of group photography. The percentage of pictures one could save by pasting over blinking eyes alone would be gargantuan. It's an emotional subject for me.
This is where I would hock my services if I weren't the very soul of taste.